The all-electric Audi e-tron S Sportback may be a stylish coupe SUV for the urban environment but it managed to be a part of another impressive task in New Zealand, much out of its comfort zone. New Zealand's first solar-powered electric, stratospheric aircraft was recently launched and helping the aircraft go airborne was the Audi e-tron S Sportback.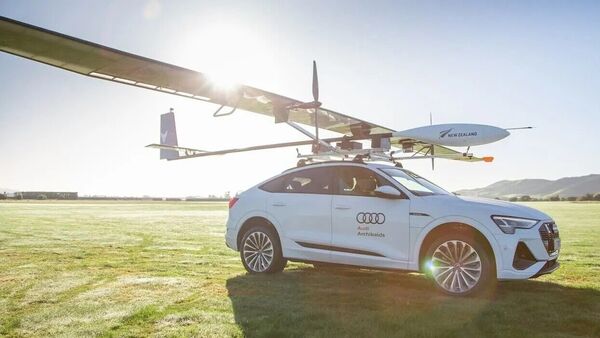 Kea Aerospace also shared a video of the Atmos Mk1's takeoff and landing mounted on the roof of the Audi e-tron S Sportback. The electric coupe SUV gets a roof carrier retrofitted to mount the aircraft on. The SUV then builds up speed on an open field allowing the Atmos Mk1 to take flight, while it's remotely controlled by the crew on-ground. There appear to be no other changes to the Audi apart from the roof carrier. The e-tron S Sportback packs 496 bhp and 973 Nm of peak torque and can sprint from 0-100 kmph in 4.5 seconds.
Also Read : Audi Q8 e-tron hits production lines, will sit on top of electric SUV pyramid
The Kea Atmos Mk1 aircraft has been developed by New Zealand-based Kea Aerospace and will be used to collect high-resolution aerial data to monitor the weather, tree health, and pollution. These will largely be for agricultural uses. Kea says that the insights from the data collected will help improve life on Earth. With the Atmos Mk1 being solar-powered, the aircraft comes with zero emissions. It comes with a 12.5-metre wingspan and flies higher than most commercial airliners at a height of up to 50,000 feet for 16 hours. It just weighs 40 kg.
Kea Aerospace says that the Atmos Mk1 can take better pictures than satellites with a similar camera. The first prototype of the electric aircraft was released in December 2021 called the X1 with a flight time of 14 hours. The second prototype called the X10 achieved a flight time of 36 hours. The company aims to hit newer altitudes with future versions.
Kea is already working on Atmos Mk2 which will have a wingspan of about 30 metres and can operate at an altitude of 65,000 feet. The aircraft will help collect data related to detecting pollution on land and in water, monitoring forest areas, enabling rapid response and preparation for extreme weather events, developing smart cities and green space, spotting illegal fishing boats and vessels, and more.
First Published Date: 12 Apr 2023, 17:53 PM IST
link